Description
The Spark - At Your School
Monday 6 to Friday 10 November 2023
World class music, dance and theatre curated especially for Leicester and Leicestershire schools.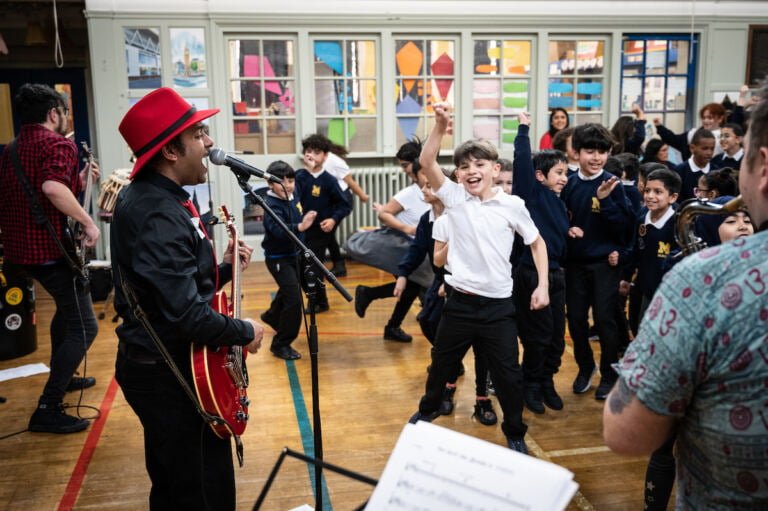 A gig in your school hall, taking you on a musical journey from Memphis to Mumbai!  By the UK's No.1 live Bollywood band.  Returning to Leicester for the second year with a fresh set of songs.
Botown are the UK's leading Bollywood live music act. Imagine a legendary 60's soul band playing Bollywood music – that's Botown.
Botown live is an 'adrenaline rush experience' and a unique live musical 'mash-up' featuring Drums, Percussion, Dhol, Saxophone, Guitar, Bass, and vocals. A guided sing-a- long gives children an opportunity to release their inner Bollywood star!
Returning to Leicester schools for a second year after selling out at record speed, don't miss out, book Botown for your school hall and see what all the hype is about!
"We were all so impressed with the band - staff and children! Was a really enjoyable experience, and the children have been singing the lyrics since

Medway Primary School
The Learning Opportunity
This is a unique opportunity for pupils to experience live music while offering role models for underrepresented groups in music.  Focus on the cross-curricular potential; link this music to culture and traditions and encourage children to respond visually through making marks and personal expression.
Key Themes
Diversity, rhythm, listening, collaboration, languages
Learning Resource Packs
We provide free learning resource packs to enhance your classroom learning and support cross-curricular links to ensure you get the most out of each performance.
Available
Monday 6 to Friday 10 November 2023
Where
We come to you, no need for costly coaches
What does the show need?
A performance space of 5m(w) X 5m (d) access to plug sockets and parking for a van.
How long does it take to set up?
1 hour to set up before the show. 30 minutes to pack down after the show.
Capacity
180 pupils per performance
Cost for 1 show (AM or PM)
£800
Cost for 2 shows in one day
£1170