Ashokkumar Mistry
Development Programme artist, Ashokkumar (Ashok) Mistry has been drawing together video, digital and performance art to question and mirror contemporary society for the past 20 years. More recently, having acknowledged his own relationship with Dyslexia and Autism he has also begun exploring writing as part of this multidisciplinary approach.
As well as working on his creative projects, Ashok has spent a great deal of time over the past few years researching, writing and campaigning for better inclusion and access to the arts for people of all ages who are disabled or neuro-divergent.
Through his work with children and young people he now wishes to bring the importance of play to the fore and explore notions of value, quality and perfection in children's work; particularly from the perspective of children who identify as disabled or neuro-divergent.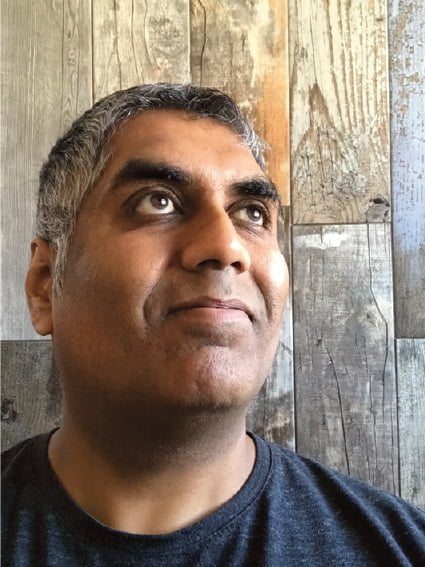 How would you describe your artform?
I'd like to say that my artfrom is play, but, every time I play with my children, i'm reminded of what real play is. My creative practice is multifarious interweaving, visual art, writing video, theatre, and much more. Like play, there are no barriers and the medium or artform doesn't matter. just a visceral response to stimuli. So, I guess my artform is the here and now.
What fascinates you about making work for children?
It is an honour to be invited by children to play. To be taken into their kaleidoscopic imagination and see the world beyond the parameters we adults set is breathtaking. Anything can become something completely different – beyond the realms of imagination. Working within this realm of possibility is liberating and offers unimagined creative possibilities.
If you could change one thing in the arts world, what would it be?
If I could change one thing, I would make it compulsory for children and young people have a controlling stake in all arts organisations. Children need to be present in the decision making around culture because they inform so much of contemporary culture without even knowing it. I guess we are so preoccupied with teaching children things that we don't see that we can learn from them.
The Vital Spark behind everything we do
We believe that all children should be able to experience arts and culture, and that they should be able to see themselves represented in these experiences. This is not yet the case for every child and we're committed to changing that.
Our response is Vital Spark, and it's at the heart of everything we do. Vital Spark is about challenging and changing the lack of diversity in children's arts and culture; it's about diverse-led artistic decision making; it's about not being afraid to stand up for what's right.
We do this by supporting artists who are currently underrepresented in children's arts and culture. We also work with partner organisations to create world-class opportunities for these artists and share best practice.