gobscure / burn
Ideas Fund and Development Programme artist, gobscure/burn (writing as burn, making sound-art-performances as gobscure) is a multiaward-winning composer and visual artist exhibiting internationally. gobscure / burn is a Graeae 'write to play' alumni.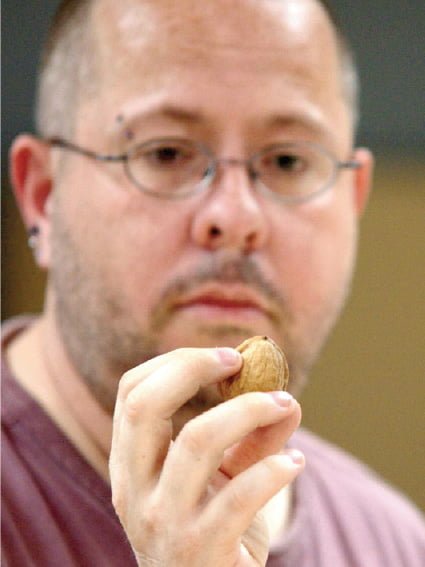 About 'trees don't grow on money'
gobscure / burn interview
What is 'trees don't grown on money' about?
'trees don't grow on money' is a play about three feisty lasses (unicorn, lips and star) who share a precious, ancient den across three seasons. An escaped lynx is slowly making its way to this same den. The lasses discover a new observation platform (surveillance) is to be built on their den, destroying this ancient piece of wild. Learning from nature, Doctor Who and from creative campaigns around the world: the three lasses fight back and save this wild.
Lifelong love of nature & wild: shinrin-yoku (japanese for tree-bathing) is now proven to aid healing including PTSD and post-heart-attack (we have experienced both). A 1,200 year-old tree we knew fell along the welsh-english border just after brexit was announced; an adolescent lynx escaped from a zoo in west wales only to be shot dead three weeks later as it posed a threat (it was size of a very large tabby). The lynx trust working on re-wilding lynxes in britain were lifelong supporters of re-wilding.
What will the audience experience?
A play with sound and visuals. Participation and playfulness with the audience ('spect-actors') is encouraged.
Playwriting, visuals, sound, clown (where we started), 'spect-acting' interactions, creative disability aesthetics, creative resistances.
We (as burn) are writer, (as gobscure) are sound artist and visual artist. Nickie Miles-Wildin is supporting us as dramaturg/director and intends to continue (we'd love this). We have also been mentored by Nick Powell (sound artist) & Rachel Bagshaw. also supported by Greyscale Theatre. This R&D is Arts Council England funded.
What can this work offer?
We want to talk of lynx's re-wilding. We want to show how nature helps heal, to offer creative resistances, how to 'rewrite the future': there's always more than one narrative. It demonstrates the healing power of nature; re-wilding & tackling climate crisis; 'dens 4 all' as places of safety; 'spect-acting' – i.e. active audiences (not passive); asking what really matters. it offers lived experience of healing via nature; genuine spect-acting (Augusto Boal's wonderful word). Our unique knowledge of how to animate all kinds of spaces – indoors & out, formal & informal, with all-comers (those who aren't usually heard). Participation that cuts across artforms and supports those who feel they are silenced to give voice.
The Vital Spark behind everything we do
We believe that all children should be able to experience arts and culture, and that they should be able to see themselves represented in these experiences. This is not yet the case for every child and we're committed to changing that.
Our response is Vital Spark, and it's at the heart of everything we do. Vital Spark is about challenging and changing the lack of diversity in children's arts and culture; it's about diverse-led artistic decision making; it's about not being afraid to stand up for what's right.
We do this by supporting artists who are currently underrepresented in children's arts and culture. We also work with partner organisations to create world-class opportunities for these artists and share best practice.