Shamser Sinha
Development Programme artist, Shamser Sinha is a Playwright whose work has a diverse and political edge; often telling stories about people on the wrong side of money, fortune and the wars we fight.
The work he creates is informed by a dialogic process and draws from his experience as both a creative practitioner and in areas of sociological and youth work. In all of his work he is keen to create environments where people's voices are supported, even if they aren't the loudest in the room.
Shamser believes children have a right to art that is truly engaging with a meaningful diversity. Having created a number of works for adults and young people, and more recently a work for those aged 7+; he is now hoping to broaden his practice by exploring different art forms and ways of working.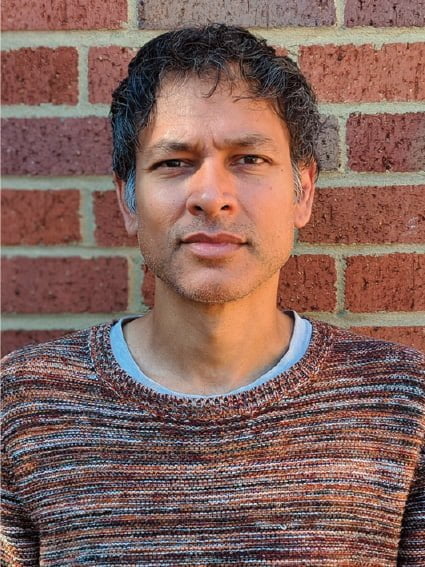 How would you describe your artform?
A mish mash. I write plays and research, write, and teach sociology. And have done youth work. But essentially I'm just interested in investing in character and voice, rather than flattening stories out. That does not necessarily mean using words, only that I try to digest the things we do that make us. And I think there's a radical potential in that. Now I want to broaden my artistic practice beyond actors acting to extend the range and vibrancy of the stories I can tell.
What fascinates you about making work for children?
When my boy was very small, he was propped up by a pillow. Back then he wasn't speaking – he was very young – although at the time obviously older than he'd ever been! I started to tap the wall, the door and the pillow in rhythm. His eyes followed as I repeated the words 'wall', 'door' and 'pillow'. His eyes followed deliberately. When I stopped he grabbed my face hard, and eased only when I repeated. He was learning the words we use. I am fascinated by telling honest stories with a personal and political edge to children and the process of making them come alive for them. We often don't think they can engage or understand complexity and flavour. But it might just be we're not very engaging. And that's a challenge for our art.
If you could change one thing in the arts world, what would it be?
It's a little bit closed – to audiences and stories. Tickets cost too much, and art becomes the toy of the privileged rather than something those struggling for the monies can be part of. But why would more people engage with the arts world when the stories don't speak to them? We speak about people at the wrong end of money, fortune and the wars we fight, but we don't speak to them. On stage they're objects to laugh at, or for us to exercise our sense of ethics and guilt. It's even worse for stories for children, because the arts world is getting happier about diverse faces and backgrounds on a stage, but defensive about those characters telling diverse stories. It might be because we're more wary of telling stories to children that challenge our sense of self and who we are? Or maybe because decision makers are scared? Or maybe they just don't want diverse stories that actually challenge?
The Vital Spark behind everything we do
We believe that all children should be able to experience arts and culture, and that they should be able to see themselves represented in these experiences. This is not yet the case for every child and we're committed to changing that.
Our response is Vital Spark, and it's at the heart of everything we do. Vital Spark is about challenging and changing the lack of diversity in children's arts and culture; it's about diverse-led artistic decision making; it's about not being afraid to stand up for what's right.
We do this by supporting artists who are currently underrepresented in children's arts and culture. We also work with partner organisations to create world-class opportunities for these artists and share best practice.