Jackie Hagan
Development Programme artist, Jackie Hagan began her career as a Performance Poet over 10 years ago. Since then she has grown and developed her practice to become a multi-award winning poet, playwright, stand-up comedian, live artist and activist.
As a working class, queer, amputee Jackie is passionate about making theatre and creativity accessible in the widest sense. She is committed to finding new and original ways of creating spaces for people to feel empathy for those people and ideas they might otherwise have vilified.
In 2018, Jackie made the move toward children's theatre, creating her first piece of work for a younger audience of 5+. This experience gave her the challenge of creating a children's show that was accessible in a creative and integrated way. Now, Jackie plans to delve deeper into her practice of making work for children and young people, continuing with accessibility at the core and exploring the use of non-theatre spaces.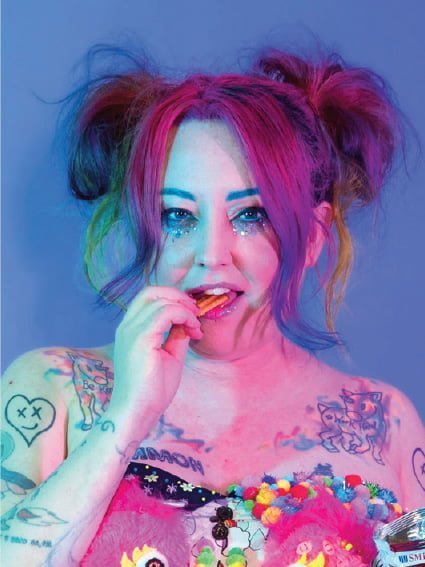 How would you describe your artform?
I am a writer/performer with a cocky cabaret energy, surreal looks at banal things, very working class and a bit cosmic, funny, poetic, I'm like a cross between a dinner lady and your imaginary friend.
What fascinates you about making work for children?
Simplifying things without losing their essence is smart and fun, I hate pretension and over complicating stuff, writing for kids makes you a better writer.
If you could change one thing in the arts world, what would it be?
People would see accessibility as a fun restriction to respond to with bucketloads of creativity.
The Vital Spark behind everything we do
We believe that all children should be able to experience arts and culture, and that they should be able to see themselves represented in these experiences. This is not yet the case for every child and we're committed to changing that.
Our response is Vital Spark, and it's at the heart of everything we do. Vital Spark is about challenging and changing the lack of diversity in children's arts and culture; it's about diverse-led artistic decision making; it's about not being afraid to stand up for what's right.
We do this by supporting artists who are currently underrepresented in children's arts and culture. We also work with partner organisations to create world-class opportunities for these artists and share best practice.